With smaller lots becoming the new norm in some suburban estates, more and more families are deciding to make the move to suburbs with large lots. For most families, acreage living doesn't mean making a complete tree-change though. Smaller acreage developments (with blocks ranging from 3000m2 – 8000m2) are popping up across SEQ to meet this demand, offering quality blocks with an easy commute and local amenities.
Acreage Homes Made For Family Living
Acreage homes, whether you choose to build small or large, offer the WOW factor that many families are looking for in a new home. You have the ability to build a new home with all of the room you could ever need, all on one level.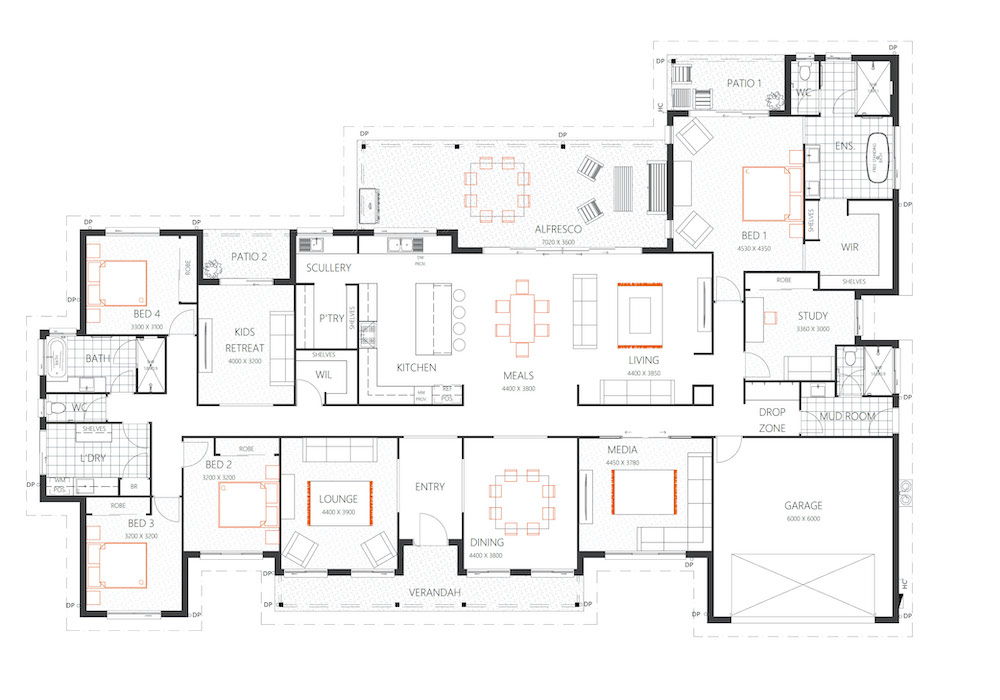 At Keibuild, we have a stunning range of acreage homes to choose from – with more in development. Our acreage homes have been cleverly designed for families of all sizes with a range of façade options that have stunning architectural features. We also offer the flexibility to customise your home to suit your family, block, views and best aspect.
Other Benefits of Acreage Living
Buying a bigger lot generally means more backyard space for a furry friend, pool, shed, vegetable garden and/or outdoor hobbies.
Enjoy bringing the outdoors in! Bigger acreage designs give you the opportunity to have a larger alfresco area – perfect for nights in Queensland.
More privacy and space between neighbours.
A safe space for kids to run and enjoy the outdoors at home.
More space for big toys such as your caravan, boat or trailer.
Enjoy falling asleep in silence – not to the sound of traffic and noisy neighbours.
Space For Dual Living
Acreage Homes don't just offer benefits for your family now – it also helps better plan for the future. For families looking to build a dual living home, our acreage design, the Owen 400, offers a generous family home with additional space for grandparents. If this is something that you might need to consider in the future, acreage lots also have the benefit of space – giving you the opportunity to build a detached granny flat on your lot in the future.*<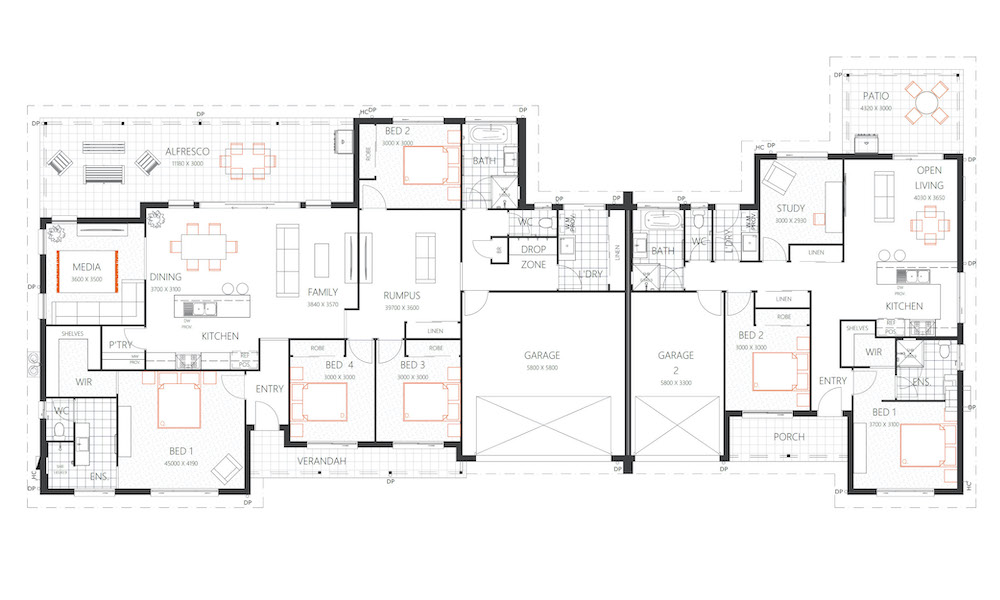 Things To Consider When Searching For Acreage Blocks
With our acreage homes spanning from 247m2 to 426m2, we have designs that will suit a range of budgets. It is, however, important that you may need to consider that living on an acreage lot may come with additional costs, some of which we have outlined below.
Home Sewage Treatment Plant (HSTP)
In many cases, a HSTP system is required on acreage blocks. Put simply, a HSTP is like a mini sewer plant on your lot. It will be installed in a designated area of your yard away from your home where sewer and grey water are treated before they are safely dispersed onto the lawn or garden.
Water Tank
Depending on whether or not you can access water in your estate, you may be required to have a water tank on your property.
A water tank and HSTP system do come with some benefits. In some estates you may not be required to pay water rates, plus you can save money on watering your yard. If required, let us know and will add a HSTP and tank into your new home quote.
Driveway
In some cases, you may need to have your home 'setback' further from the road, meaning the length of your driveway will increase in size from a standard residential block. We do include a broomed, grey finish concrete driveway in our Standard Inclusions, but in some cases, you may require more than what's included. We will assist with this when siting your home on your block.
Services
If this distance from the home to the services on the nature strip are greater than 10lm, there is an additional cost to run the water, power and sewer (if available at the street).
While some of these considerations may seem daunting, an acreage lot can bring many more advantages to any growing family. So if you need help finding the perfect acreage lot, complete your details below and we'll be in touch.